The high-quality floor heating and plastic insulation board structure has a high closed cell ratio and forms a vacuum layer to avoid air flow and heat dissipation, ensuring long-lasting and stable thermal insulation performance. A large number of practice proved that the 20mm thick XPS extruded insulation board has the same thermal insulation effect as 50mm thick expanded polystyrene and 120mm thick cement perlite.
Magnesite insulation board
First, product introduction
Magnesite insulation board is an emerging building material product in the rural aquaculture industry in recent years. The magnesite insulation board developed by Jinan Magochen Building Materials Machinery Co., Ltd. is made of modified magnesite cement, supplemented with necessary inorganic fillers and organic fillers. Magnesite insulation board products are made of magnesite cement with high strength, easy combination with inorganic and organic materials, heat insulation and sound insulation. After professional prefabrication and on-site construction, it is an organic combination of traditional magnesite products and new insulation materials. The new magnesite insulation board technology has passed the production and practical proof in recent years, the product quality is reliable, and its low cost and good performance have been accepted by the breeding industry customers. It has been widely used in various cities in Henan, especially in the three areas of Nanyang, Zhoukou and Jiaozuo; it has been successfully promoted and applied in Hebei, Xinjiang, Inner Mongolia, Shaanxi, Heilongjiang, Jilin, Liaoning, Anhui and Jiangsu.
Second, product advantages
1. The construction cost is low. The traditional brick structure wall is currently costing about 60 yuan/m2, while the new magnesite insulation board is less than 40 yuan per square meter, which is almost less than 2/3 of the traditional wall. At the same time, the state has successively introduced policies and restrictions. The production and use of clay bricks to protect cultivated land. The new magnesite insulation board does not use clay and is in line with national policy. It is an ideal choice for aquaculture or factory buildings and warehouses.
2, construction is convenient, the new magnesite insulation board factory prefabricated, on-site construction, easy installation. At the same time, factory production is conducive to the supervision and control of product quality.
3, excellent performance, the new magnesite insulation board corrosion resistance, acid and alkali resistance, aging resistance, seismic and pressure resistance performance is far superior to traditional materials, and this product has quite good elasticity and tensile resistance, will not be frozen The soil is cracked and suitable for use in cold regions of the north.
4. The thermal insulation effect is good. The new magnesite insulation board adopts new thermal insulation material. The surface is made of FRP material to increase the strength. The middle is filled with polystyrene foam board for filling, which has outstanding heat insulation effect and excellent thermal insulation performance. The experimental data shows that the thermal conductivity of the foam board of 1cm18kg is equivalent to that of the 10cm brick wall. At the same time, the porous structure of the foam board has outstanding sound absorption performance, which effectively reduces the interference of external noise and has good heat preservation performance.
5, easy to disinfect, the new magnesite insulation board itself uses FRP material, can inhibit the survival of pathogens, the surface is smooth as a mirror, easy to rinse and disinfect, is conducive to epidemic prevention.
6, fire performance is good, magnesite composite cementitious material is the most superior fireproof performance of inorganic cementitious materials, can meet the national A-class non-combustible fire performance requirements.
7. Long service life, the new magnesite insulation board has special performance, the surface is strong and strong, and the load per square is up to 350 kg. It has excellent wind resistance, impact resistance and high temperature resistance, acid and alkali resistance, corrosion resistance and anti-aging. Solve the technical problems of returning halogen and frosting, and the service life can reach more than 30 years.
8. Lightweight and shock-resistant, the weight per unit area is only 1/10 of the weight of the brick wall. It has good seismic performance - it can be used in both low-rise and high-rise buildings.
9, energy saving and environmental protection, the production process does not require high temperature, high pressure; the product is non-toxic, harmless, non-polluting, non-radioactive, and is a new environmentally friendly energy-saving building materials.
Stainless Steel Pipe Fittings or Casted Stainless Steel Fittings was casted with Stainless 202, Stainless Steel 304 or Stainless 316(Normally).It hase Threaded type and Butt-welding type. Stainless steel corrosion resistance, heat resistance, low temperature strength, good mechanical properties. Deep drawing, bending and other processing properties at room temperature is better, will not be hardened after heat treatment. Commonly used in tableware, Sink, indoor plumbing, water heaters, bathtubs, boilers, auto parts (window cleaner, air return pipe), medical machinery, building materials, chemical, food industry, textile industry, cheese industry, ship parts.
Products: Stainless Steel Pipe Fittings
Material: Stainless Steel 202,Stainless Steel 304,Stainless Steel 316 and or as required
Standard: DIN,EN,BSP,NPT,JIS and so on
Item: Elbow,Street Elbow,Tee,Socket,Nipple,Union,Bushing,Plug,Cap,Olet,Flanges,etc
Size: 1/8" to 4"
Inspection: Every Piece and can issue Quality Report
Packing:Carton/Pallet/Wooden Case
Application:Oil,Steam,Gas and so on Fluids.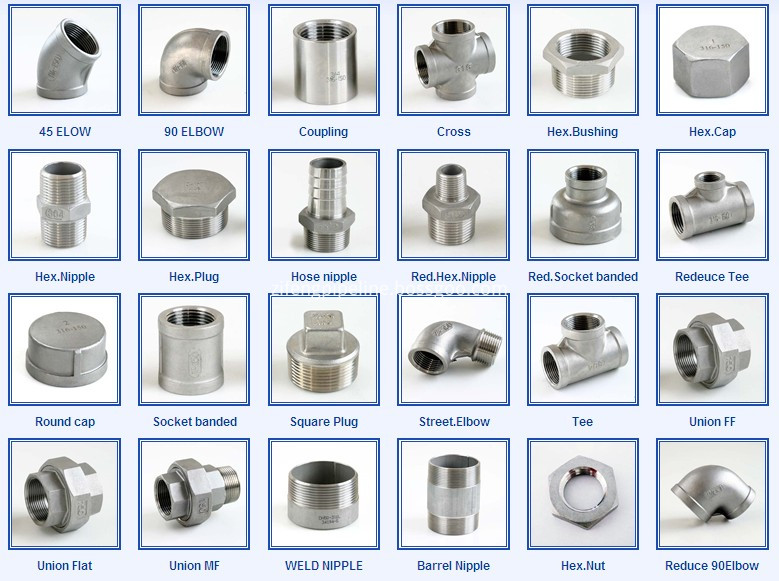 Stainless Steel Fittings,Stainless Steel Pipe Fittings,Stainless Steel Tee Fittings,Stainless Steel Clamp Fittings
HEBEI ZIFENG NEW ENERGY TECHNOLOGY CO.,LTD. , http://www.zifengpipeline.com