Recently, the Strong Magnetic Field Science Center of the Chinese Academy of Sciences has initially established an extremely low temperature test system, through which the electrical transport, heat transport, and magnetic measurement can be performed from 325 millikelvin to room temperature. This system is also the first test system in China to obtain both extreme magnetic and ultra-low temperature conditions.

Extreme conditions mainly refer to physical conditions created by humans that reach or approach the current technological limits, such as extremely low temperatures, ultra-high pressures, and strong magnetic fields. Through experiments under extreme conditions, we can expand the space and means of scientific research, and provide unprecedented opportunities for solving difficult problems in many major scientific technologies, as well as creating new physical forms, synthesizing new materials, and discovering new phenomena.

At present, scientific research under extreme conditions is becoming more and more in-depth, and even requires a combination of extreme conditions, but it is very difficult to obtain both strong magnetic fields and extremely low temperatures. This is because the water-cooled magnet aperture that can obtain high field strength is usually designed to be small, and the extremely low temperature is obtained in a small space, which is a great challenge for solution design, material selection, device processing and installation. In order to overcome the shortcomings of the prior art methods, the researchers of the Strong Magnetic Field Center of the Chinese Academy of Sciences finally determined the design scheme by learning from the experience of the international strong magnetic field laboratory. The scheme used five thin-walled stainless steel tubes in a space of 6.6 mm. A transition from room temperature to 325 mK can be achieved.

It is reported that after the initial completion of the system, the researchers successfully tested the transport characteristics of the ZrTe5 single crystal sample with the magnetic field under the condition of 325 millikelvin temperature. The magnetic field test range is 0-25T. This test is also the first scientific experiment in the combination of steady-state strong magnetic field and extremely low temperature conditions in China.
2,2'-Azobis Basic Information
Product Name: 2,2'-Azobis
CAS: 78-67-1
MF: C8H12N4
MW: 164.21
EINECS: 201-132-3
Mol File: 78-67-1.mol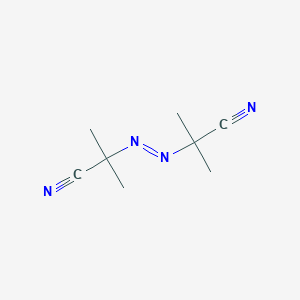 2,2'-Azobis Chemical Properties
Melting point: 102-104 °C (dec.)(lit.)
Boiling point: 281.68°C (rough estimate)
Density: 1.11
Refractive index: n20/D1.495
Fp: 4℃
Storage temp.: 2-8°C
Water Solubility: Insoluble
Stability: Stability Flammable solid. Shock sensitive. Thermally unstable. May be explosive in combination with acetone or heptane. Incompatible with oxidizing agents.

2 2'-azobis,2 2'-azobis 2-(2-imidazolin-2-yl)propane,2 2'-azobis 2-methylbutyronitrile structure,2 2'-azobis dihydrochloride,2 2'-azobis(2-methylpropane)
Jinan Forever Chemical Co., Ltd. , https://www.jinanforever.com