Transport Package:
Bag Barrel
Specification:
45*40cm, 38*48cm
 
Ocrown
 Chrome Color Changing Pigment, Chameleon Pearl Pigment
 
Color shifting powders shows changing colors & strong color flowing effect if you look from different angle. It's a new generation pearls of us for coloring cosmetics, the colour make a special kind of color shift effects.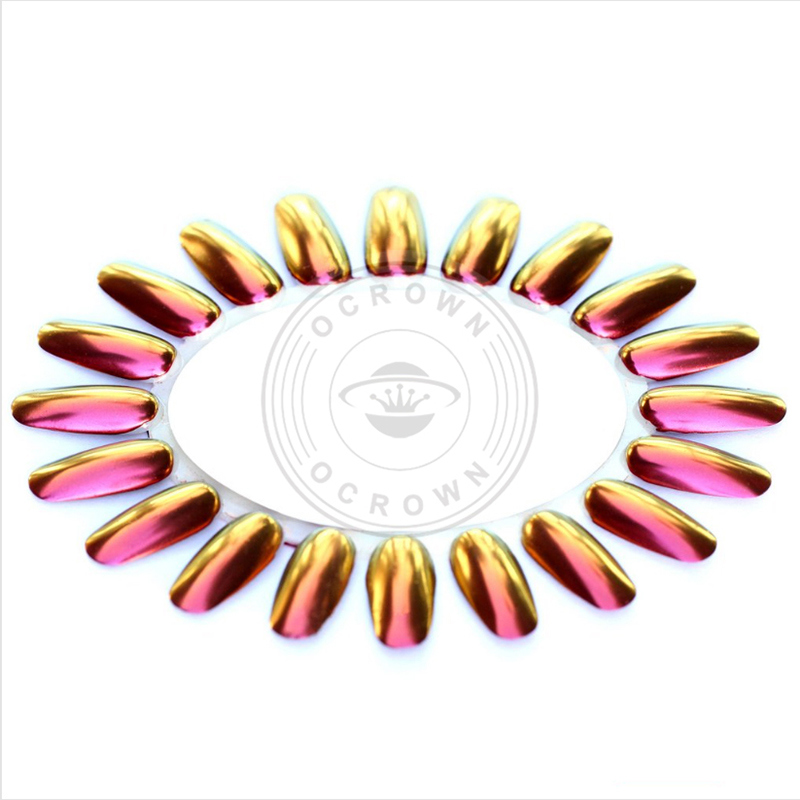 Product name

Chameleon

 Pearl

Pigment

for Nail Polish

Brand

OCROWN

Color

2-4 color shift

Particle size

10-6

0

 um

Feature

Odorless,Non-toxic, Eco-Friendly

MOQ

0.1kg

Certification

SGS Â REACH GMP EEC FDA

Package

Bag   bottle  barrel

Shipping method

By air or by sea

Payment method

T/T  L/C  Paypal  West union

Application

Cosmetic  ink  paint  leather paper

Delivery time

5-20 days

Sample

Available
Color changing powders are a new pigment which can change different color when you see from different angle. Color shifting powders can be mixed with other pigments and dyes for any magic color design.
Features of color shift powders
1. Color changing by angles, magical color with a high mirror effect
2. Inorganic, Multilayer coating, Light bright and color
3. Nontoxic, odourless, good light/heat/weather resistance.
4. Free of heavy metal.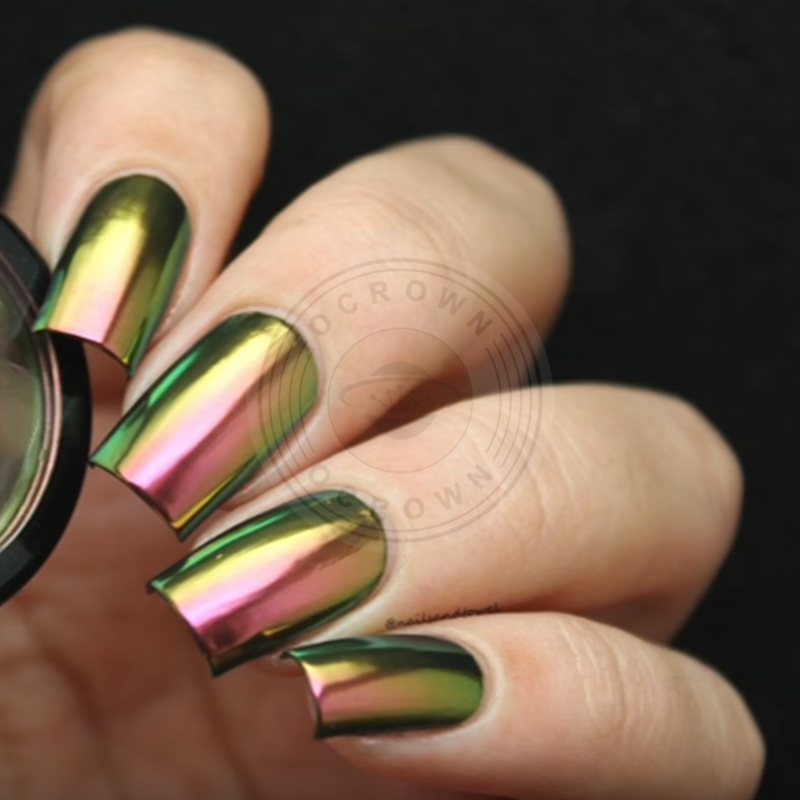 Application of chameleon pigments
Chameleon pigments are widely used in various industries, such as automobile, lacquer cosmetics, nail art, nail beauty, toe art , toe beauty , electrical appliances, plastics, printing, synthetic leather, and in high security printing of bank notes, negotiable securities etc.

How to use with UV Gel Polish:
1.Prepare your nails with UV BASE COAT, UV COLOR GEL, No-wipe UV TOP COAT.(Other top coat cannot get mirror effect)
2.Use eyeshadow stick to pick the powder and apply it onto your nails
3.Repeat the step untill you're satisfied with the effect.
4.Seal it with UV TOP COAT.

How to use with Nail Polish:
1.Prepare your nails with base coat.
2.Apply black base color polish
3.Seal it with top coat.
4.Use eyeshadow stick to pick the powder and apply it onto your nails
5.Seal it with top coat.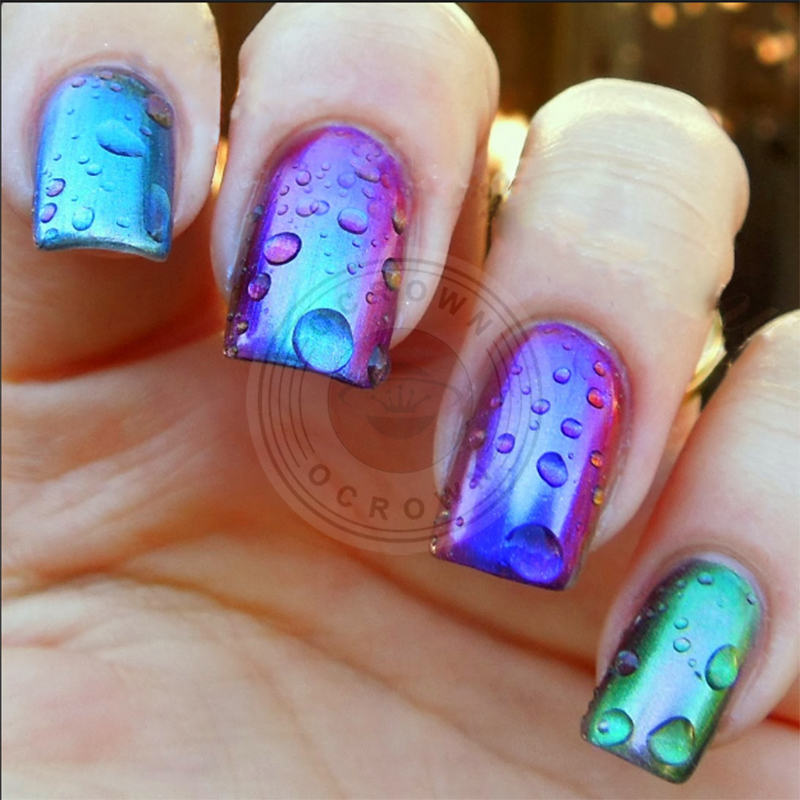 Customized Service 
 As a leading manufacturer of cosmetic colored micas, we can meet any of your customized requirements.
 1. Special Packings
 2. Own Brand Labeled
 3. Product Images Support
 4. Formulation Guideline Support etc.
 
Delivery time: If we have stocks, within 2 weeks, if not , within 4 weeks.
Packaging: 25kgs per carton or drum, 450kgs per pallet.
Notice:Our samples are for free, but the quantity depends on the exact products.





Company Information
We sell bellow kinds of special effect pearl pigments for makeup ,nail art , decoration , light industry,car finish coating....:

-chameleon pearl pigments
-glitter& flakes 
-photochromic pigments
-3D cat eye magnetic pigments
-holographic pigments
-chrome mirror pigments
-fluorescence pigments
-thermochromic pigments
-glow in the dark pigments
-pearlescent pigments
-bronze powder
-metallic powder
If you want to see more effect pictures, please welcome to contact me.
Also welcome you visit our website www.ocrown.com to see it.
 

   
PP Edge Banding fulfill the increase demands for environmental protection.PP Edge Banding be used for cabinets/wardrobe/doors/panels and so on. PP edge banding specification: 1.PP edge tape is safe, environmental and non-toxic. 2.PP edgeband is of high dimensional stability.3. PP edge bands has good heat resistance. 4. PP edge banding has good bending resistance and no turning white when bending. 5.PP edge banding has good anti-corrosion effect.
Pp Edge Banding Series,Pp Edge Banding,Furniture Pp Edge Banding,Pp Solid Edge Banding
Sinowolf Plastic Dekor Co., Ltd , https://www.sinowolfdekor.com